WINTER
STOWE MOUNTAIN MEISTER CHALLENGE
Why
Challenge Yourself this Winter, While Exploring Stowe's Vast Wilderness
About Stowe Mountain Meister Challenge
The goal of the Stowe Mountain Meister Challenge is to encourage a more diversified, in-depth connection to the Stowe's vast natural resources.
Sunrise Mountain Guides has provided Classic Vermont Mountain Adventure for years. Celebrate winter by exploring Stowe's unmatched wilderness through Snowshoeing, XC Skiing, Backcountry Skiing and Ice Climbing. Challenge yourself this winter by completing classic outings in all four disciplines and you'll earn a complimentary Sunrise Mountain Guides, Mountain Meister Down Jacket that you can proudly wear on your next adventure.
When you try something new that's outside your comfort zone, you're challenging your very soul. When you push your limits, you're challenging your mind. And each time you push through and overcome something new, you get a little stronger.
Are you ready to push your limits, expand your mind, and overcome a challenge? You will be better equipped to face the next challenge on the horizon.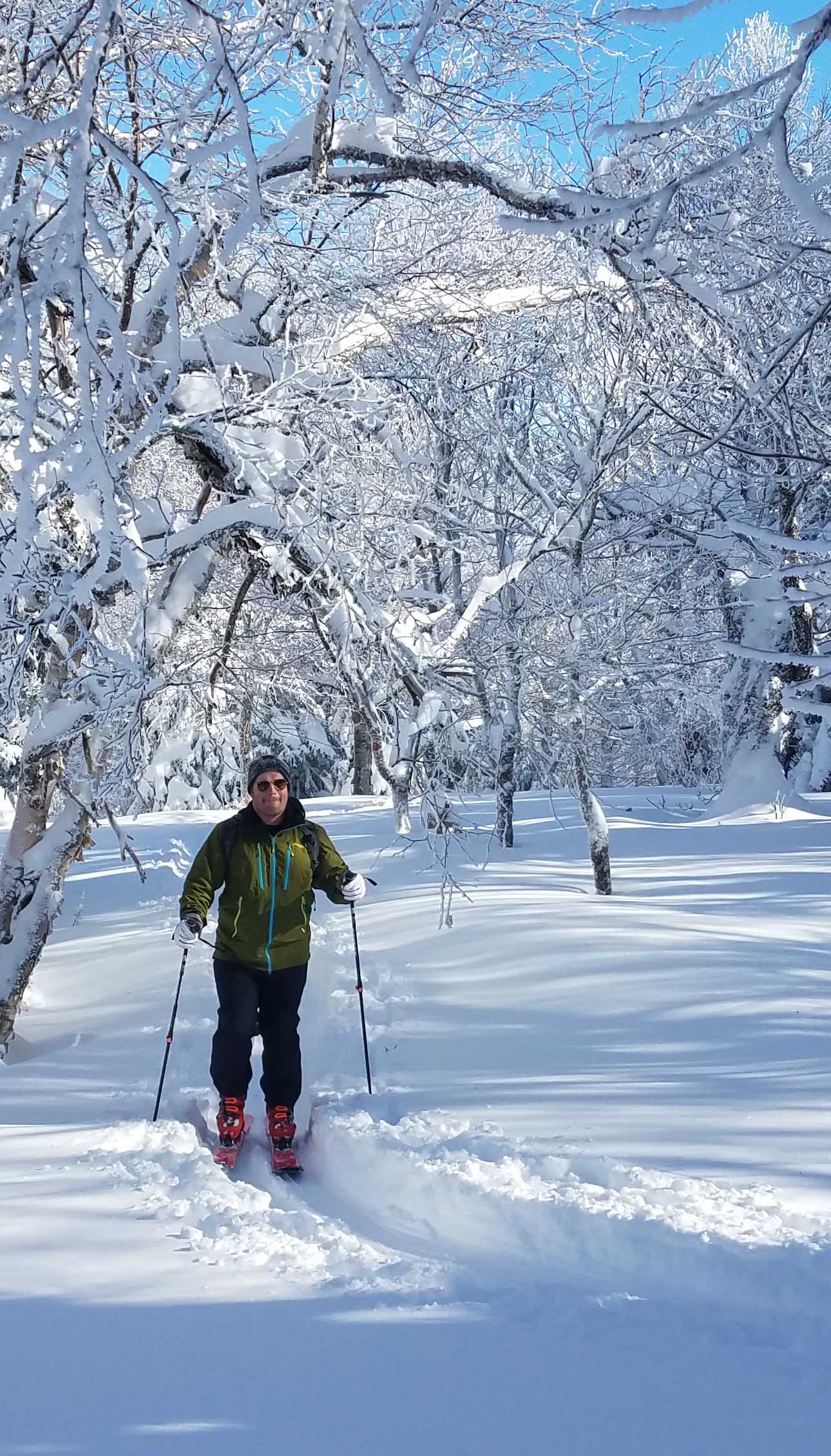 Snowshoeing
From the frozen rivers to old growth ridge tops, snowshoeing has long been the "Vermonters way of winter travel". Snowshoeing can transport you on any terrain in any condition. Join us for a Mount Mansfield winter hike on Snowshoes up the century old "Long Trail" to historic "Taft Lodge". Complete the ascent with a high alpine climb to the summit of Mt. Mansfield!
XC Skiing
Stowe has been welcoming XC Skiers for over 50 years and is home to oldest XC Center in the nation, the Trapp Family Lodge. With over 120 kilometers of interconnecting groomed trails, Stowe host some of the finest Nordic skiing in the nation. Join us for a classic "Tour de Stowe", a 12 mile round trip connecting two of Stowe's iconic XC centers. We'll begin at the Stowe Mountain Resort XC Center and follow the Ranch Brook into the historic Ranch Valley, "Birthplace of Skiing in Stowe". We'll climb to the Slayton Pasture Cabin for a quick break before descending to the Trapp Family Lodge XC Center and Lunch. After lunch we'll ease our way back up the Haul Road and then descend back to the Ranch Valley finishing back at the Stowe Mountain Resort XC Center.
Backcountry Skiing
The birth of skiing in Stowe can be traced back to the heyday of logging in the "Ranch Valley". Early skiers in the 1920's found the logging roads of the "Ranch Valley", the perfect venue for exploring the backcountry. Today, you can still ski one of the early, classic tours, the "Sky Top Ridge". This moderate 8 mile loop brings you to another world atop the Sky Top Ridge to find old growth yellow birch and moose wintering yards.
Ice Climbing / Winter Mountaineering
Stowe is well known as the "Ski Capital of the East. Adjacent to Stowe, is Smugglers Notch, recognized as a world class venue for Ice Climbing. The steep gullies and ice covered cliffs have challenged climbers since the early 1970's. Challenge yourself on the moderately rated Hidden Gully. This classic Alpine Climb provides views most will never see.
 Pricing is based on normal full day guiding rate with a 10% discount. 
1 person           $275.00
2 people           $425.00
3 people           $525.00
4 people           $600.00