Why
EXPERIENCE THE EXTREME WINTER BEAUTY OF ICE CLIMBING
Water seeping from the rocks freezes as it falls, allowing us to enjoy this challenging winter sport. These tours offer visitors an amazing first-hand experience of some of Stowe's untamed nature, ice climbing brings you up close and personal to the outdoors.
Introduction  to Ice
This adventure is an introduction to waterfall ice climbing. Depending on your time and energy we will make this half or full day experience exciting for all ages and abilities.
NO PRIOR EXPERIENCE NECESSARY! Sunrise Mountain Guides provides all technical equipment. See the gear list for clothing and packing tips.
Intermediate Ice
This adventure assumes some experience on ice.  You've done some toproping, you know your knots and you may have some of your own equipment.  If you've caught the ice bug and are ready for the next step, this course is for you!  Ice 201 is traditionally a full day, but we can cater a half day if the need is required.
Advanced Ice
This is an advanced level adventure for climbers who feel ready for the "sharp end". Leading is very rewarding but one needs to be prepared with technical proficiency for the variety of situations ice presents. Lead climbing requires an acceptance of risk, but we will make this day safe and rewarding. This course is designed for a guide to client ratio of 2:1. If you have more people please schedule a month prior.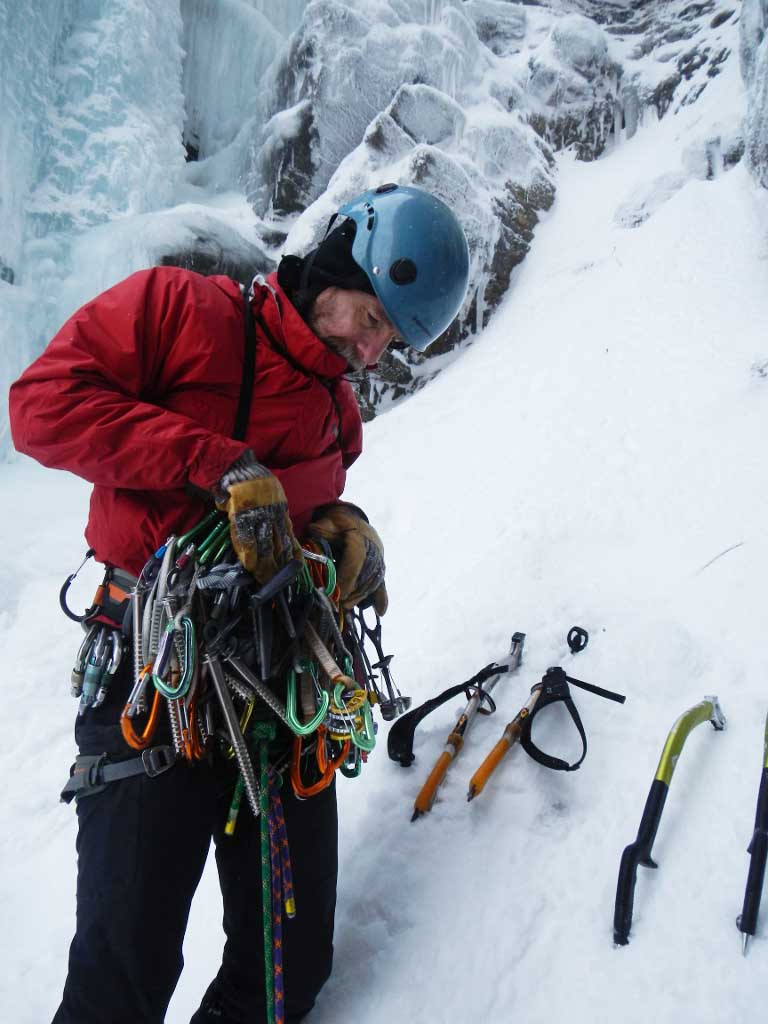 Ice Climbing Equipment List
Clothing
Base layer, long underwear top and bottom (synthetic only, no cotton)
Mid-layer, Fleece or pile light and heavy weight (insulation layer)
Soft shell, windproof, water resistant (provides limited insulation)
Outer-layer, waterproof/ breathable fabric (jacket w/ hood and pants)
2 wool or synthetic hats
2 pr gloves and or mittens
Neck Gaiter
Gaiters (optional)
Goggles/ sunglasses
Equipment (Provided)
Climbing Boots
Crampons
Ice Tools
Harness
Additional Equipment
Map/ compass/ GPS
Headlamp/ spare batteries
Water, Food
Whistle, Duct Tape
Compact lightweight emergency blanket
Emergency Tarp, large Plastic Bag
Knife/ multi tool
Matches and or lighter Candle
First aid supplies (tape, gauge bandage, antibiotic ointment, ace bandage)
 Half Day Rates
Duration 4 Hours
Easy to Difficult 
1 person            $250
2 people            $325
3 people            $495
4 people            $595
Full Day Rates
Duration 8 Hours
Moderate to Difficult
1 person               $350
2 people                $450
3 people                $595
4 people                $695
Testimonials
What They Say

"Wow what a day! Went out with Greg and Walt and had a blast. My daughter (11) and I ice climbed and have never done it before. Greg and Walt are exceptional leaders, coaches and teachers. We really enjoyed ourselves today and will be back!" ~Trip Advisor