WINTER
BACKCOUNTRY SKIING & TOURING 
Why
Miles of Backcountry Terrain
Let us introduce you the birthplace of skiing in Stowe, the Ranch Valley.  In the 1930's early ski pioneers found the abandon logging roads of the Ranch Valley perfect of exploring the Northern winter woods.  Sunrise Mountain Guides offers two options for exploring the backcountry on skis.
Intro to Backcountry Skiing Clinic
This clinic covers; proper equipment selection, trip planning and technique. We'll explore the "Ranch Valley" while learning the fundamentals of touring the winter back woods.
Prerequisite; intermediate level skier preferred
24 hour reservation notice preferred
Equipment and trail fee not included
Backcountry Day Tour
Stowe offers miles of high and low elevation backcountry ski touring.
Explore the scenic Sky Top Ridge, test your telemark on the Steeple, the Bruce, Tear Drop or the Underhill Trail. We'll show you the real reason people call Stowe  The Ski Capital of the East.
Tours average 4 to 6 hours.    
Prerequisite; advanced intermediate level skier in good condition
24 hour reservation notice preferred
Equipment and trail fee not included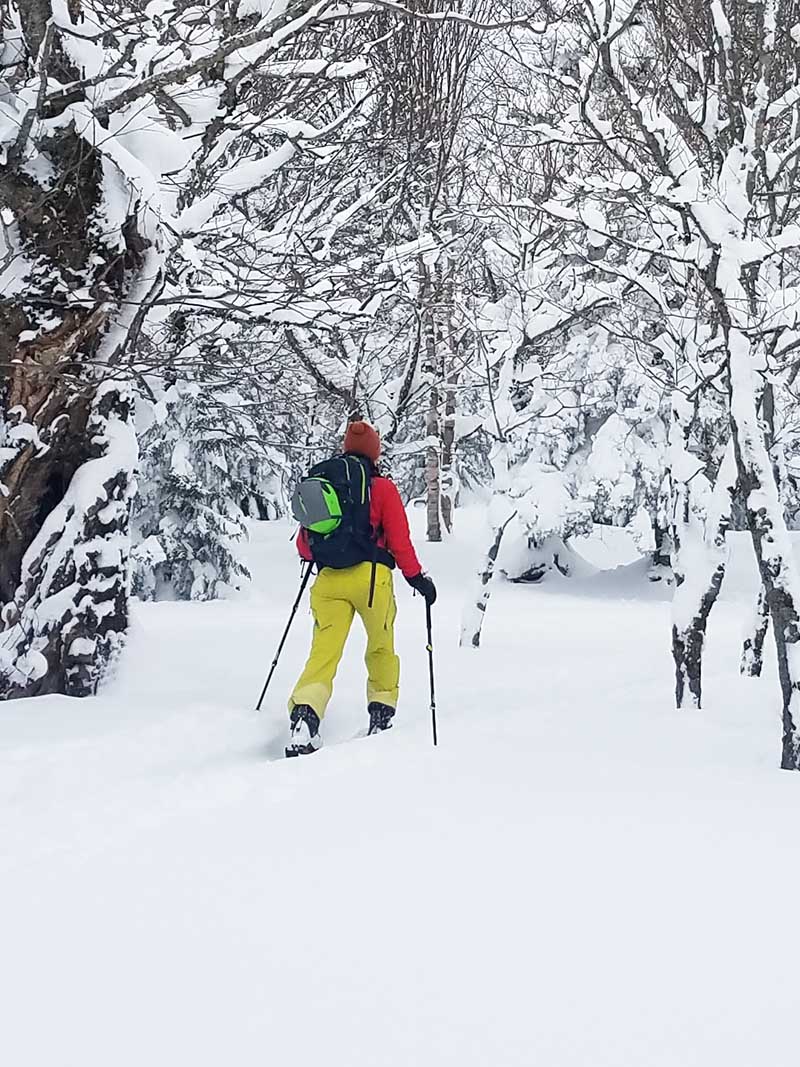 Backcountry Ski Day Equipment List
Clothing
Base layer, long underwear top and bottom (synthetic only, no cotton)
Mid-layer, fleece or pile light and heavy weight (insulation layer)
Soft shell, windproof, water resistant (provides limited insulation)
Outer-layer, waterproof/ breathable fabric (jacket w/ hood and pants)
2 wool or synthetic hats
2 pr gloves and or mittens
Neck gaiter
Gaiters (optional)
Goggles/ sunglasses
Equipment
AT skis and boots
Waxable or waxless, metal edge, Backcounrty skis
75 mm backcountry ski boot
( plastic boots preferred)
Adjustable ski poles with powder baskets.
Skins (full or half)
Pack – 20-30 liter size
Additional Equipment
Map/ compass/ GPS
Headlamp/ spare batteries
Water
Food
Whistle
Compact lightweight emergency blanket
Emergency Tarp, large Plastic Bag
Knife/ multi tool
Matches and or lighter
Candle
Duct tape
First aid supplies (tape, gauge bandage, antibiotic ointment, ace bandage)
Half Day Rates 2-3hr
1 person            $255.00
Group of 2         $325.00
Group of 3         $475.00
Group of 4         $595.00  
Full Day Rates 4-6hrs
1 person               $450.00
Group of 2            $550.00
Group of 3            $650.00
Group of 4            $750.00